N-ice ice cubes

N-ice ice cubes are made only from fine-filtered, dechlorinated, potable water which is further purified by the Reverse Osmosis treatment and then sterilised to ensure purity. As a result, N-ice ice cubes are crystal clear, with neutral taste, low in salt and free from undesirable micro-organisms. Lastly, they contain no odours which might affect the taste of your drink.
Available in 1.5kg, 2.7kg & 4.5kg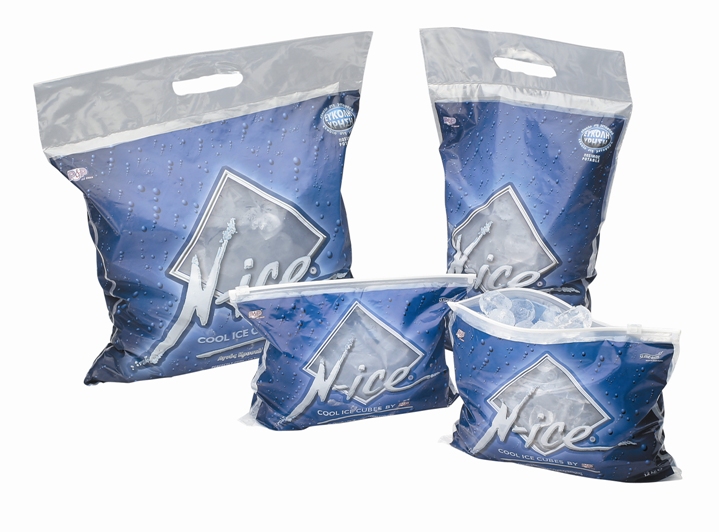 Our commitment is to maintain the highest standards of food safety and quality in accordance with the ISO 22000, food safety system, the ISO 9001 quality assurance system, the ISO 45001 health & safety management system and the European Directives.
For N-ice info in Greek please visit www.n-ice.com.cy
Typical Analysis
| Parameter | Unit | Value | EU Potable Limits |
| --- | --- | --- | --- |
| pH | - | 7,86 | 6,5 - 9,5 |
| Conductivity | μS/cm 20oC | 30 | max. 2500 |
| Dry residue 180°C | mg/L | 2 | max. 1500 |
| Total hardness | mg/L as   CaCO3 | 4 | max. 500 |
| Chlorides | mg/L | 7 | max. 250 |
| Sulphates | mg/L | <1 | max. 250 |
| Carbonates | mg/L | <1 | - |
| Bicarbonates | mg/L | 10 | - |
| Nitrates | mg/L | <1 | max. 50 |
| Nitrites | mg/L | 0,013 | max. 0,50 |
| Sodium | mg/L | <1 | max. 200 |
| Potassium | mg/L | <1 | max. 12 |
| Calcium | mg/L | 1 | max. 100 |
| Magnesium | mg/L | <1 | max. 50 |
| Ammonium | mg/L | <0,01 | max. 0,50 |
| Colony count  22°C | cfu/ml | 0 | max. 100 |
| Colony count  37°C | cfu/ml | 0 | max. 20 |
Non-reverse osmosis processed ice cubes
Available in 4.5kg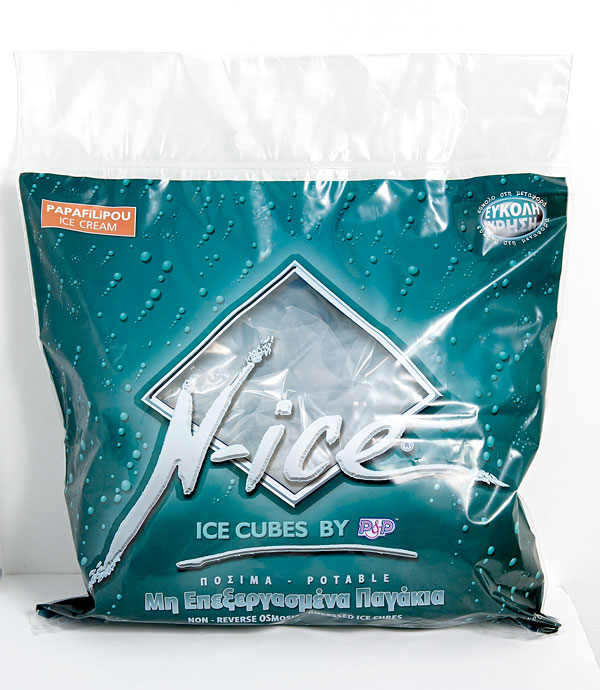 Typical Analysis​
| Parameter | Unit | Value | EU Potable Limits |
| --- | --- | --- | --- |
| pH | - | 9,2 | 6,5 - 9,5 |
| Conductivity | μS/cm 20oC | 751 | max. 2500 |
| Dry residue 180°C | mg/L | 480 | max. 1500 |
| Total hardness | mg/L as   CaCO3 | 399 | max. 500 |
| Chlorides | mg/L | 94 | max. 250 |
| Sulphates | mg/L | 60 | max. 250 |
| Carbonates | mg/L | 330 | - |
| Bicarbonates | mg/L | 0 | - |
| Nitrates | mg/L | 39 | max. 50 |
| Sodium | mg/L | 61 | max. 200 |
| Potassium | mg/L | 2 | max. 12 |
| Calcium | mg/L | 69 | max. 100 |
| Magnesium | mg/L | 18 | max. 50 |
| Boron | mg/L | 0,09 | max. 1,0 |
| Colony count  37°C | cfu/ml | 0-10 | max. 20 |